News
General Data Protection Regulation which entered into force on 25 May 2018
25.05.2018
Dear Sir or Madam,
in accordance with General Data Protection Regulation which entered into force on 25 May 2018, we are required to ask for your consent to collect your personal data which you give us when downloading our catalogues (name and surname, address, email address, phone numbers).
Said data will be used exclusively to provide information, deliver products and provide the services you order from us.
Data security will be safeguarded with the utmost attention and we will take all appropriate steps in accordance with the regulations on personal data protection which apply in the Republic of Croatia and the European Union.
By sending a statement of approval with your data, it will be considered that you have given us your consent to use your personal data which we will, as mentioned earlier, use only to contact you regarding our business cooperation.
Yours sincerely, Metal Product
Stjepan Šafran APPOINTED AN HONORARY CONSUL OF THE REPUBLIC OF ALBANIA IN Varaždin
12.02.2017
Varaždin, 10 February 2017 – Amidst numerous guests, the Minister of Foreign Affairs of the Republic of Albania Ditmir Bushati and the Varaždin County Prefect Predrag Štromar opened on 9 February the Honorary Consulate of the Republic of Albania in Varaždin. Mr. Stjepan Šafran was appointed Honorary Consul of the Republic of Albania in Varaždin. His Excellency Ambassador of the Republic of Albania to Croatia Ilir Melo was also present at the dedication ceremony.
President Grabar Kitarović at the 50th anniversary celebration of the entrepreneurial work of Stjepan Šafran at Metal Product
18.11.2015.
On 16 November 2015 in Breznički Hum, we marked the completion of investments in new facilities and technologies, and the celebration was also attended by the President of Croatia Kolinda Grabar Kitarović. In addition to the completion of the new production hall in Breznički Hum, we marked the 50th anniversary of the entrepreneurial work of our founder and current CEO Stjepan Šafran.
09.06.2015.
Metal Product foundry from Zagreb cast the bell which rang during the visit of the Holy Father to Sarajevo. The bell weighs 320 kilograms, and it produces a clear B note. It was donated by the Šafran family from Zagreb for the Solemn Pontifical High Mass celebrated by Pope Francis, the leader of the Roman Catholic Church, which was held on 6 June 2015 in the city situated along the Miljacka River.
25.05.2015
Our foundry cast the bell which will ring during the visit of Pope Francis to Sarajevo. The bell weighs 320 kg and it is decorated with symbols, such as the papal coat of arms, the Croatian wattle and the symbol of the Society of Jesus. The bell bears the following text:

"In honour of St. Francis Xavier, the Patron of Catholic Missions, this bell is donated by 'Metal Product' and the family of Stjepan Šafran from Zagreb to the parish church of St. Ignatius Loyola in Grbavica. This bell was cast for the occasion of the visit of Pope Francis to Sarajevo and the Catholics of Bosnia and Herzegovina on 6 June 2015. It was cast by Josip Tržec in Zagreb, in 2015."
05.11.2014
We bought our first two forging presses which will be located in the new production facility, which is currently under construction. These machines are used for production of components using plastic deformation in automotive, aerospace, railway and other industries. The components produced using this process have better mechanical properties than components produced using machine processing.
10.09.2014
In September 2014, we bought two CNC processing centres produced by Haas. Both machines are intended for serial production with rapid tool changes (tool-to-tool) and rapid table strokes, so we have expanded our machine range in the CNC department.
We are building a new production facility in Breznički Hum
01.07.2014.
In May 2014, we began preparations for construction of METAL PRODUCT's third production facility in Breznički Hum where we will develop machine metal processing using pressing or forging processes. Therefore, METAL PRODUCT is introducing a new technology, which will significantly improve our technology park. The surface area of the production facility will be 1400 square meters, and it will have complete infrastructure facilities. Machines for metal processing using pressing will be set up there. Currently, electrical works are underway as well as landscaping activities, so the completion of the production facility is expected in January 2015.
Updated edition of catalogue 6 was printed
10.05.2014.
Catalogue 6 - Equipment for uninsulated overhead power networks 10, 20 and 35 kV
Catalouge 6 is now availabe for download from our website.
Metal Product introduces unit packaging for its products
01.05.2014.
List of products + unit packaging. For details please click on picture underneath.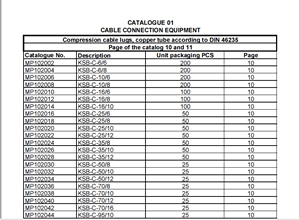 07.09.2012.
Zagreb, 30 August 2012 - The Office of the National Security Council of the Republic of Croatia (UVNS) today awarded a business security certificate of SECRET level to Metal Product. Metal product, a company owned by entrepreneur Stjepan Šafran from Zagreb, after a verification procedure, met all legal requirements to participate in projects which are of SECRET level of secrecy.